International Community Church
"Serving Christ and Cary/ Apex/ Morrisville Communities for the past 39 years"
join us this sunday for in-person worship
English worship service with regional language songs( Hindi, Telugu, Tamil, Malayalam and Gujarati) : 9:00 AM
(The Holy Communion is observed on the 1st and 3rd Sundays of every month)
Fellowship Meal : 11:30 AM
Sunday School for kids (Ages 1 to 17) : 12:30 PM
Bible Study for Adults : 12:30 PM
1402 E. Williams Street, Apex, NC 27539
Pastor's Phone : 919-233-2900
Third Anniversary of Thanksgiving Worship and Celebration of our Jehovah Jireh's Provision of our Sanctuary Building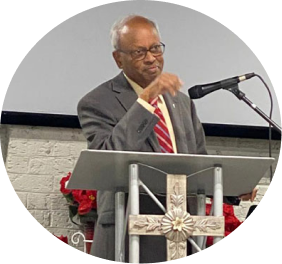 Dear Friend,
Welcome to our pioneering Christian mission church. What a joy to have you and your family join us in worship of God and fellowship with fellow believers! Our sole aim is to glorify Christ, to share the Good News, and help people to have a fulfilling life as His disciple in and through the love and grace of Jesus Christ.
ICC had its origin in June of 1984 in the Triangle area. Since then, our existence and growth can be attributed to divine guidance and miracles. People of Asian, Indian, Pakistani, American, Sri Lankan, Chinese, Japanese, and West Indian nationalities have come to experience the joy and oneness in Jesus Christ and hope continually in His redeeming grace. We have in our church-family believers from South, North, East and West India representing at least 10 different states and also from Philippines.
God has consistently fostered among us a special unity and family-feeling despite our diversity. You are sure to experience the love, friendliness, acceptance, and humility of Christ within ICC. It is our hope that every child of God will live to their God-ordained potential (i.e. becoming a disciple of Christ) and enjoy the blessings of belonging to our Christ centered family.
God had led us these 39 years by teaching and guiding us to worship, hear, study, do the Word of God, pray, witness, evangelize, discipleship here in this vicinity and do Christian missions of compassion, dedication and determination abroad.
You are loved with an everlasting love (yes, that's what the Holy Bible says) and here by God's eternal purpose. You are sure to be a blessing among us.
In Christ's abiding love,
Pastor Joseph B. Jesudason
OPPORTUNITIES FOR SPIRITUAL GROWTH
Weekly Adult Bible Study & Youth and Children Sunday School
Sundays at 12:30 PM
Intercessory Praise and Prayer
Wednesday 7 P.M. at the church
Lasts for 1 hour.
Lydia's Friends Ladies'
Homemakers Prayer Fellowship
Monday, Tuesday and Friday (by Telephone)

Zakar Bible Club
Scripture Memorization for Children (Last Sunday of the month)
Local Mission Support
We support 6 local ethnic ministries through financial help.

Lilies of the Valley (Women's fellowship)
Once in 2 months.

Men with Vision
Monthly last Saturday at 8:30 AM. Prayer, breakfast, fellowship.